Congratulations to: habanerogal, Mary, "J", "Kelly", "isabelleandzoesmom", "nanu", "Bernadette", Tasha, Coach J and Melissa!
For anyone who is interested in purchasing some Ear Bandit product, I have been given a promotional code good for 10% off! Just enter "wws10" at checkout to receive your discount. This offer is good until August 31, 2009.
______________________________
Even though, in the middle of the Canadian prairies, we don't come across water very often, I'm still militant about swimming lessons for my kids. (You can never be too careful.) Unfortunately, one of those kids is quite prone to ear infections. He missed a quarter of the lessons in his last session due to that nasty swimmer's ear and consequent infection. It took a two hour wait at the doctor's office and a 10-day prescription for antibiotic ear drops before he was well enough to go back into the water.
I wish I had known about the Ear Bandit then.
I was delighted to try out the products on my kids, in the hopes that it would prevent future ear infections and all the agony that goes along with them. Knowing that they were developed by an ENT (Ear Nose and Throat) doctor was also very reassuring.
Here is the instructional video on how to use the Putty Buddies silicone ear plugs and Ear Bandit headband. Below is my account of how the products worked for us.
The silicone ear plugs are big enough to fit in an adult's outer ear. For my kids, aged 7 and almost 5, half an ear plug worked just fine. (Anything that saves me money is a definite score in my world).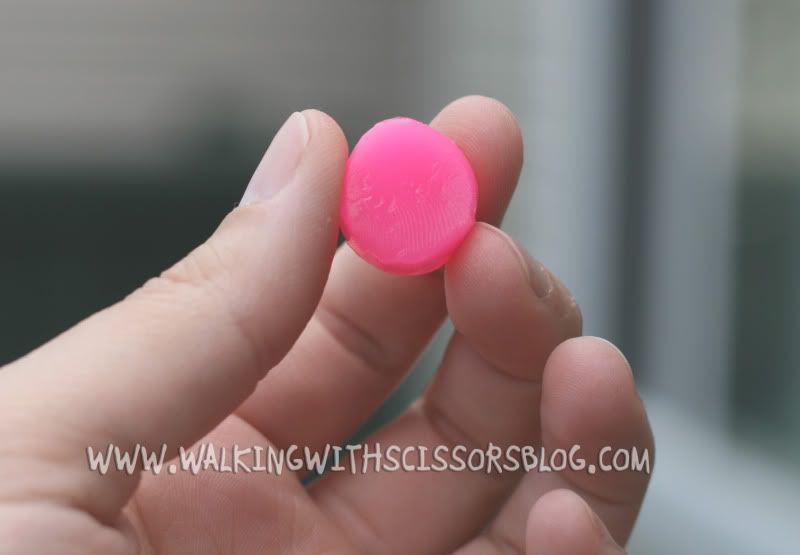 The first thing we did was flatten the ear plug against the outer ear of each of the kids. The texture is tacky, so they stayed in place easily.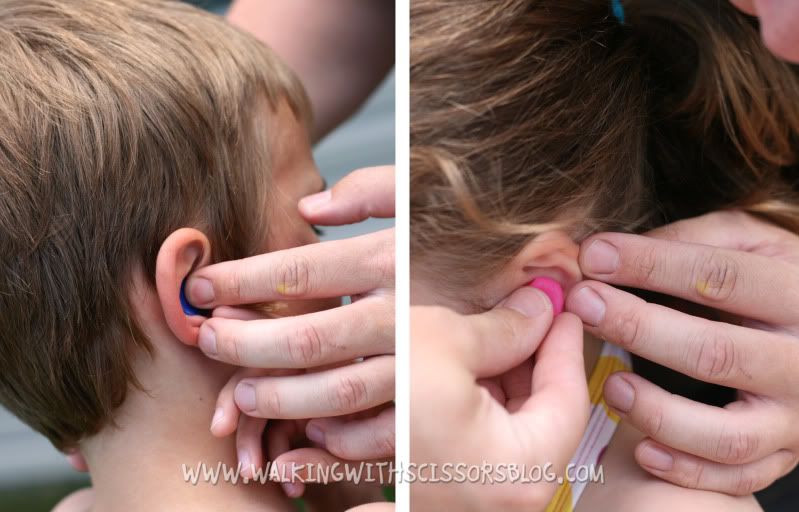 Then we went ahead and secured the neoprene headband on over top.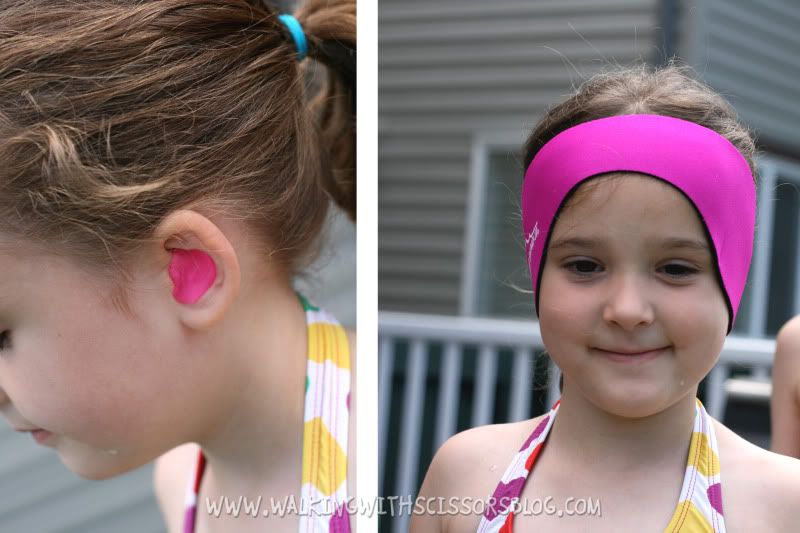 Lily was quite happy with her earplugs and headband. (Anything that allows her to "dress up" is a hit.)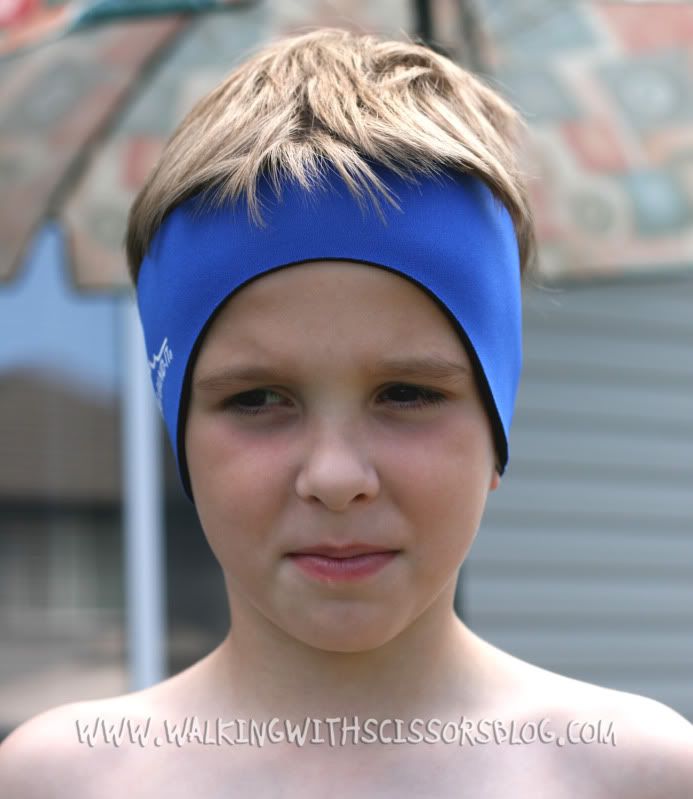 Logan was okay with the ear plugs, but wasn't too sure about the headband. Since I wanted his experience to be a good one (meaning, I want him to wear the earplugs to swimming lessons!), I decided that he could be the "earplugs only" test subject.
Each of the kids dipped a tentative ear into the water…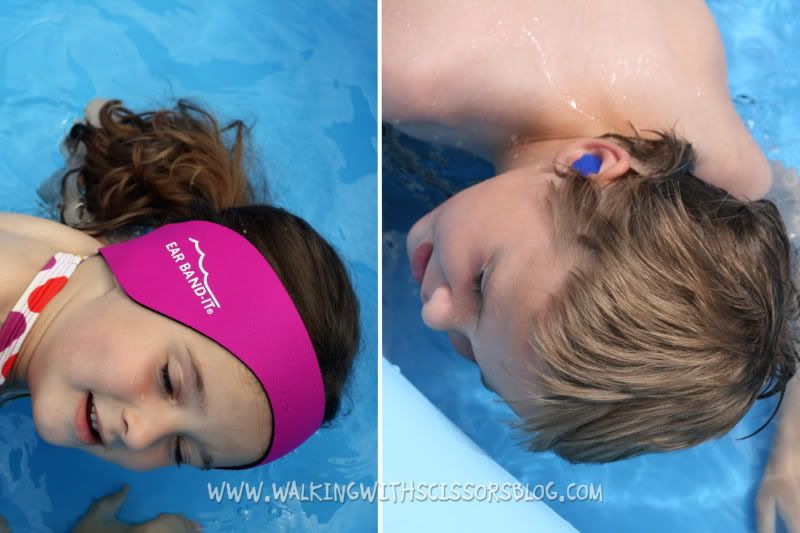 And were so impressed with how dry their ears stayed that soon they were frolicking around like monkeys.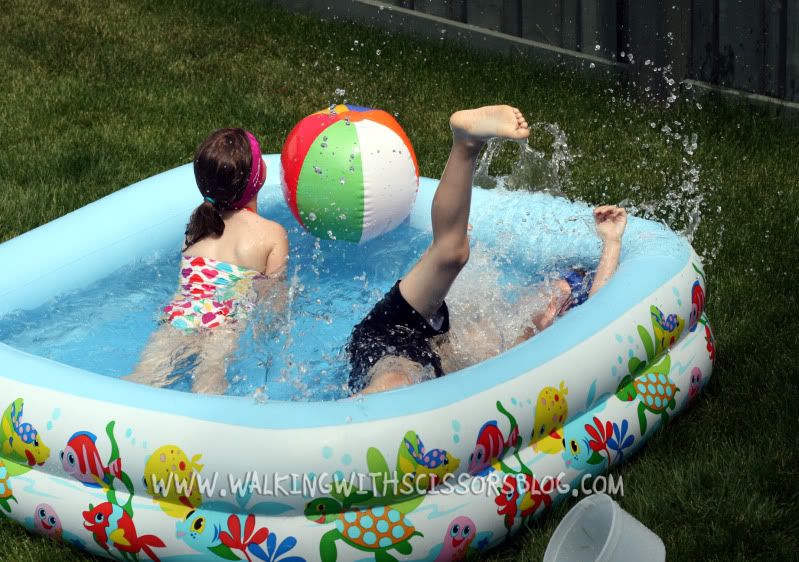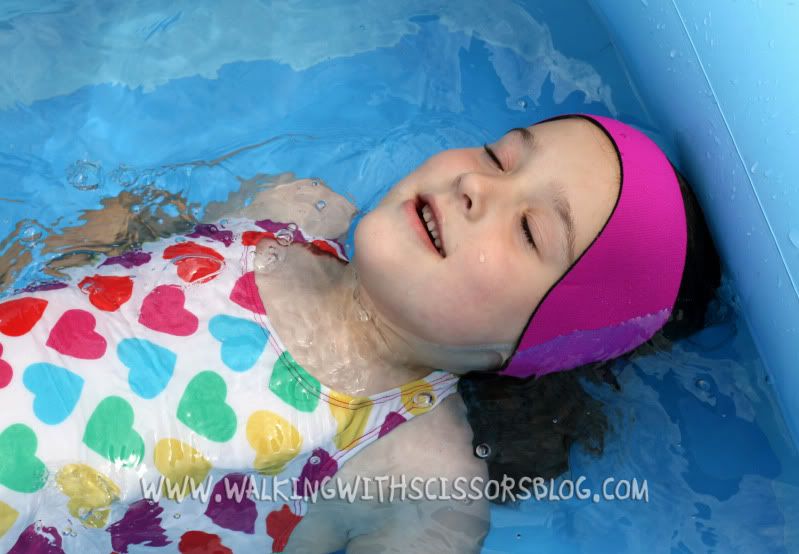 This kid? Is the one who really hated leaning back in the water at swim lessons: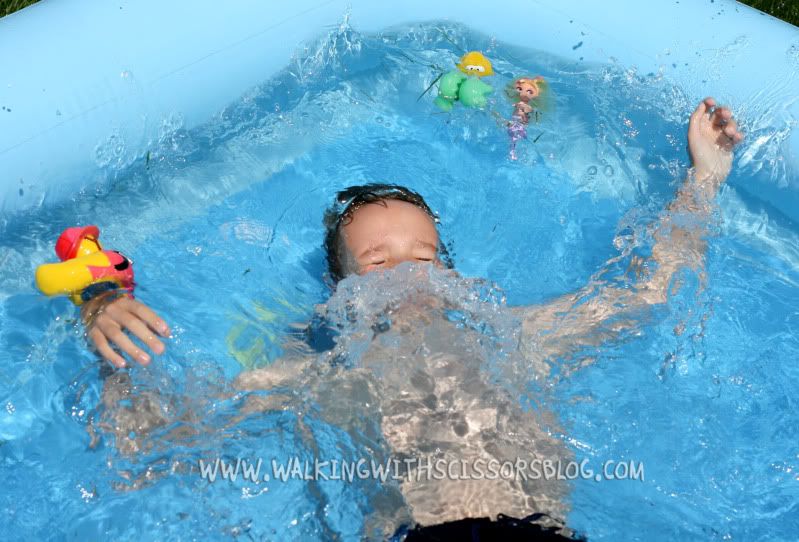 Apparently, with dry ears it's not such a big ordeal after all. Woot!
After splashing their way through the afternoon, it was time to dry off and head inside. When I had a look at Lily's ear plugs, it was like they hadn't been used at all. They were still perfectly in position and Lily assured me that her ears were dry as could be.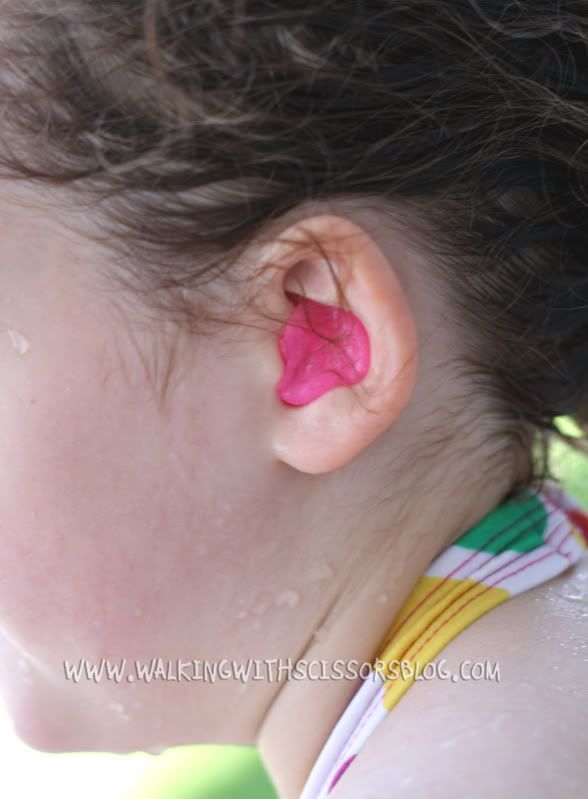 And Logan's verdict?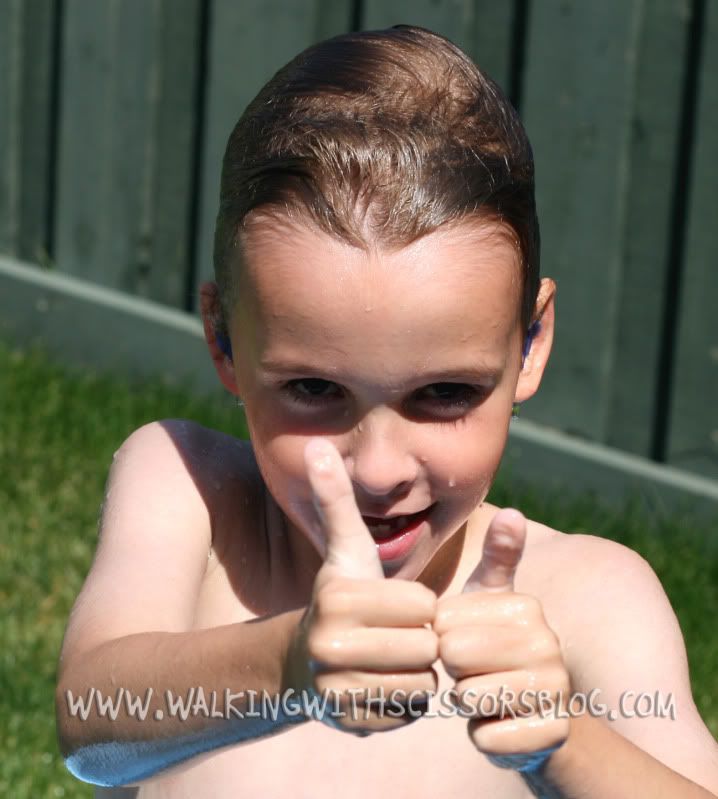 Double thumbs up for dry ears and no ear infections!
The ear plugs worked just as well without the head bands as with, and they come in several bright colours as well as clear for those of us who wish to remain as inconspicuous as possible. Lily and Logan noticed that their hearing was a bit muffled with the ear plugs in but they could still hear quite well with them in. The kids were able to remove the earplugs themselves with no problems at all. I gave them a quick rinse in the sink and put them back in their containers for next time.
I highly recommend this product for anyone who is prone to swimmer's ear or just plain hates getting water in their ears.
____________________
So what's in it for you? The Ear Bandit company would like to give away five pairs of Putty Buddies silicone ear plugs to ten, yes TEN, lucky commenters. All you have to do is leave a comment on this post to qualify! If you want to stack your odds even further, hop onto Twitter and tweet this contest. Leave another post in the comments section linking back to your tweet and you're in for a second entry.
This giveaway will end on Wednesday, August 12th at midnight, so be sure to enter right away! Good luck to everyone.